folian is a family-owned company, run by the two owners Manuela and Stefan Muschter. Both are guided by the conviction that we can make existing processes better. Achieving added value for customers and employees. Always on the lookout for the better solution. Always one step ahead. To do something that was not previously thought possible. With the entire folian team – for our customers!
Over more than 20 years of production, folian has established itself as a specialist in the printing and finishing of packaging films for the food industry using 10 + 1 colour flexo printing.

---
2016
A new laser perforation system replaced our previous hot needle perforation. Laser perforation also allows individual layers of film to be "scored" and can be used to make opening easier.


2014/2015
The machinery pool increased in size again. The plant now has three printing, laminating and roll slitting machines. With our new flexo printing machine, in addition to solvent-based printing inks, we can also process water-based printing inks. We are the first in Germany to offer film interlayer flexo printing.


2013
Establishment of the branch office in Wolfertschwenden, Bavaria.


2012
With the acquisition of a new laminating machine, folian offers its customers the option of hot needle perforation.


2004
Expansion of the plant. In addition to a new production hall, a second print machine and a second roll slitting machine went into operation.


2001
The first customer order leaves the folian gmbh plant. The machinery pool includes a printing, laminating and roll slitting machine.


1999
Manuela and Stefan Muschter found folian gmbh. The main headquarters of the plant is in the village of Groß Lüdershagen near the Hanseatic City of Stralsund.
The machinery pool includes a printing, laminating and roll slitting machine.


1997/98
The initial idea of a flexo printing works for packaging films.
---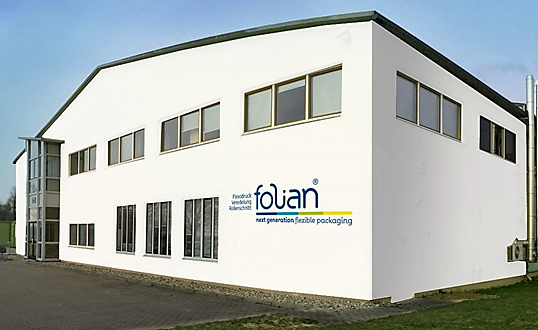 folian gmbh
flexo printing company for flexible packagings
Feldstraße 30
18442 Groß Lüdershagen
fon +49 3831 4828-0
fax +49 3831 4828-48
---
Whether new machines, new technology or products - here you will find out what's new. We inform you about our participation on fair trades. Take a look: current news