All that matters: satisfied customers
---
Benefit from our comprehensive technical adivse!
There is no one-size-fits-all solution when it comes to film packaging. Each product requires a different combination of material, strength, pre-treatment and properties. For composites, there is an almost infinite number of combinations/variations. And this is exactly where we can assist you. Together we will find your individual composite film and match it perfectly to the product. Our technical advice is extremely comprehensive.
But we can advise you on more than just finding the right film packaging. Are you having problems with the packaging film when packing on your machines? Is the film not running fast enough? Do you have problems with the peel or sealing? We have all the answers for you and will be happy to visit you directly at your site. Please don't hesitate to contact us!


---
Quality: trust is good - control and security are even better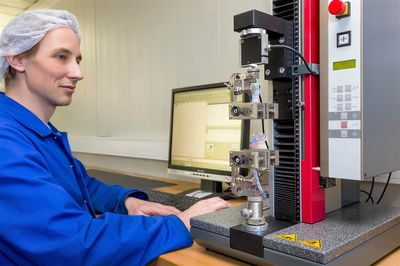 With the help of our AVT monitoring and integrated EAN code control, compliance with quality standards is guaranteed throughout the entire printing process. After each step, our quality assurance checks that all of the product requirements are met using state-of-the-art tests. The product is only released for further processing if a positive result is achieved. Regular training courses and further training ensure that our employees are always the most highly qualified specialists in their field. Of course, we work exclusively with certified companies, so the quality of all products can be guaranteed.

We have been certified according to DIN EN ISO 9001 since 2001 and BRC/IoP Global Standard since 2007.


---
Correct print data - the be-all and end-all
In order to ensure the best printing results and smooth processing of your order, please observe the instructions on our data sheet.
In addition to this, since 2013 we have been able to process your motifs ready for printing in our in-house prepress and reproduction facility. For more information, just contact us. Our prepress/reproduction team look forward to receiving your email or phone call.


---